The IRA (Irish Republican Army) is a terrorist organization which supports Irish independence that plagued the British isles for over 50 years. Their main objective during WW2 (and for years before and after) was to reunite Northern Ireland with Eire. With the outbreak of the war, the IRA and the Germans found themselves with a common enemy; the British.
The IRA conducted many attacks against the British totally regardless of the war with Germany, but they also actively worked with the Germans against the British.
IRA Soldiers in traditional getup
When the war broke out the IRA was already engaged in what they called 'The S-Plan' against the UK which involved the planting and detonating various explosives. The bombs had reduced in frequency in the run up to the war; this was purely coincidentally however. The first attack of The S-Plan during the war was a group of mail bombs that went off in Euston Station, and another bomb in Birmingham in February 1940, there were no reported casualties from this. Just over a week later, more bombs detonated in Birmingham, again, not killing anyone. Nine days later, there was another series of explosions in the West of London, killing thirteen people. This fatal attack was the last bombing in The S-Plan.
Another series of IRA attacks was The Northern Campaign. This started roughly three years after the outbreak of war. It lasted about two years and was largely insignificant. The IRA lost 3 men during the campaign, whereas the British lost 4 men, plus loads of supplies and infrastructure. The campaign more or less fizzled out in 1944.
The Germans picked up in the IRA-British conflict and exploited it, mainly for intelligence. The intel gathered by the Germans was fairly trivial, but not totally insignificant.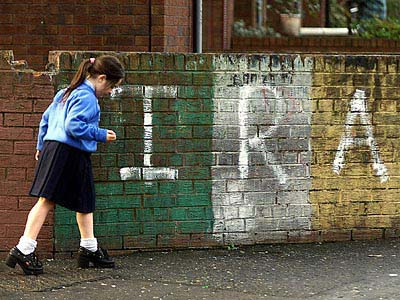 A man named Seamus O'Donovan was the leader of the German-IRA collaborations, he was a staunch IRA man who had fought in the Irish War Of Independence a few years earlier. He had set up relations with the Nazis long before the outbreak of war, but Seamus had a keen eye for politics and could see war coming over the horizon. In his diary, he wrote on the 28th of August, 1939 that "England would be at war with Germany within a week.". The Germans referred to him as V-Held, German for 'agent hero'. One of his lesser known feats was inventing various IEDs used by the IRA in their various campaigns, many of which he used during the Northern Campaign, in which he actively participated. At one point during the campaign, he got into a firefight with British soldiers who caught him planting explosives. He was by himself against five British soldiers, all of which he successfully held off with suppressive fire, wounding two and routing the rest.
All in all, the IRA made very little difference to the war, but it wasn't for lack of trying.